Okul Bütününde Yenilikçiliği Önceleyen ve Kendini Yenileyebilen Okul Yönetimleri

Özet Görüntüleme: 41 /

PDF İndirme: 11
Anahtar Kelimeler:
Okul Yönetimi, Yenilik, Kurum Kültürü, Liderlik
Özet
Okullarda kurumsal yenilikçilik, kurumsal performansı artıracak belirli bir süreç veya hizmeti kolaylaştırmak için kullanılabilir. Bu kullanım, yapısal yeniliği ve yönetim sistemi yeniliğini içerir. Şu anda, okullar tarafından benimsenen kurumsal yenilik teorileri çoğunlukla kurumsal örgütsel yenilik teorilerinden türetilmiştir. Ancak, okul organizasyonları ile kurumsal organizasyonların farklı amaç ve ihtiyaçları olduğunu farkına varmak önemlidir. Okulların kurumsal yapıları ve kurumsal reform kapasiteleri farklıdır. Farklı örgütsel üye ilişkilerine, farklı karar verme modellerine, farklı iç/dış faktörlere sahiptirler. Kurumsal yenilik, mevcut durumdaki bir kuruluş için alternatif bir seçimdir ve sistematik bir değişimini içerebilir. Kurumsal yenilik teknoloji, amaç, personel ve kültürdeki yapısal değişiklikleri kapsar. Geçmişte araştırmacıların kurumlar için "teknik yenilik" yönü üzerinde çok fazla durduklarını ve sonuç olarak "idari yenilik"i göz ardı ettikleri düşünüldüğünde, kurumsal yenilik tanımının çeşitlendirilmiş bir bakış açısıyla incelenmesi gerekmektedir.
Referanslar
Aidla, A., & Vadi, M. (2007). Relationships between organizational culture and performance in Estonian schools with regard to their size and location. Baltic Journal of Economics, 7(1), 3-17.
Alfirevic, N., Pavičić, J., & Relja, R. (2016). School management innovation and principal support systems: toward the agenda for Croatian school reform. Economic research-Ekonomska istraživanja, 29(1), 1150-1164.
Allen, R. (2010). Does school autonomy improve educational outcomes? Judging the performance of foundation secondary schools in England. DoQSS Working Paper No. 1002. 20 Bedford way, London, UK.
Arar, K., & Nasra, M. A. (2020). Linking school-based management and school effectiveness: The influence of self-based management, motivation and effectiveness in the Arab education system in Israel. Educational Management Administration & Leadership, 48(1), 186-204.
Bandur, A. (2012). School‐based management developments: challenges and impacts. Journal of educational administration.
Bigliardi, B., Ferraro, G., Filippelli, S., & Galati, F. (2021). The past, present and future of open innovation. European Journal of Innovation Management, 24(4), 1130-1161.
Budnyk, O. (2022). Education innovations: new wartime experience of Ukrainian universities. JETT, (13), 464-471.
Burroughs, N., Gardner, J., Lee, Y., Guo, S., Touitou, I., Jansen, K., ... & Schmidt, W. (2019). A review of the literature on teacher effectiveness and student outcomes. Teaching for excellence and equity: Analyzing teacher characteristics, behaviors and student outcomes with TIMSS, 7-17.
Caldwell, B. J. (2005). School-based management (Vol. 3). Perth, Australia: International Institute for Educational Planning.
Caldwell, B. J. (2016). Impact of school autonomy on student achievement: Cases from Australia. International Journal of Educational Management.
Caldwell, B. J. (2008). Reconceptualizing the self-managing school. Educational Management Administration & Leadership, 36(2), 235-252.
Chapman, C., Muijs, D., Reynolds, D., Sammons, P., & Teddlie, C. (Eds.). (2015). The Routledge international handbook of educational effectiveness and improvement: Research, policy, and practice. Routledge.
Chatenier, E. D., Verstegen, J. A., Biemans, H. J., Mulder, M., & Omta, O. S. F. (2010). Identification of competencies for professionals in open innovation teams. R&d Management, 40(3), 271-280.
Chesbrough, H., & Bogers, M. (2014). Explicating open innovation: Clarifying an emerging paradigm for understanding innovation. New Frontiers in Open Innovation. Oxford: Oxford University Press, Forthcoming, 3-28.
Cornali, F. (2012). Effectiveness and efficiency of educational measures: evaluation practices, indicators and rhetoric. Sociology Mind, 2(03), 255.
Cornito, C. M. (2021). Striking a balance between centralized and decentralized decision making: A school-based management practice for optimum performance. International Journal of Social Sciences and Economic Review, 3(4), 08-15.
Crespin-Mazet, F., Goglio-Primard, K., & Scheid, F. (2013). Open innovation processes within clusters–the role of tertius iugens. Management Decision.
Dahlander, L., O'Mahony, S., & Gann, D. M. (2016). One foot in, one foot out: how does individuals' external search breadth affect innovation outcomes?. Strategic Management Journal, 37(2), 280-302.
Dandalt, E., & Brutus, S. (2020). Teacher performance appraisal regulation: A policy case analysis. NASSP Bulletin, 104(1), 20-33.
Day, C., & Sachs, J. (2004). Professionalism, performativity and empowerment: Discourses in the politics, policies and purposes of continuing professional development. In International handbook on the continuing professional development of teachers (pp. 3-32). Open University Press.
Edwards Jr, D. B., & Mbatia, P. (2013). Education decentralisation and school clusters in Namibia: technical, institutional, and political dimensions. Global Managerial Educafion Reforms and Teachers: Emerging Policies, Controversies and Issues in Developing Contexts. Brussels: Education International, 55-73.
Evans, L. (2011). The 'shape'of teacher professionalism in England: Professional standards, performance management, professional development and the changes proposed in the 2010 White Paper. British educational research journal, 37(5), 851-870.
Eyal, O., & Roth, G. (2011). Principals' leadership and teachers' motivation: Self‐determination theory analysis. Journal of educational administration, 49(3), 256-275.
Finnigan, K. S. (2010). Principal leadership and teacher motivation under high-stakes accountability policies. Leadership and Policy in Schools, 9(2), 161-189.
Frey, K., Lüthje, C., & Haag, S. (2011). Whom should firms attract to open innovation platforms? The role of knowledge diversity and motivation. Long range planning, 44(5-6), 397-420.
Gonzales, M. M., & Jackson, I. (2020). Going the Distance: What School Administrators Can Learn from One-to-One Laptop Schools. Journal of School Administration Research and Development, 5, 55-60.
Greany, T. (2018). Innovation is possible, it's just not easy: Improvement, innovation and legitimacy in England's autonomous and accountable school system. Educational Management Administration & Leadership, 46(1), 65-85.
Grinshtain, Y., & Gibton, D. (2018). Responsibility, authority, and accountability in school-based and non-school-based management: Principals' coping strategies. Journal of Educational Administration, 56(1), 2-17.
Hogan, S. J., & Coote, L. V. (2014). Organizational culture, innovation, and performance: A test of Schein's model. Journal of business research, 67(8), 1609-1621.
Hallinger, P., & Heck, R. H. (2010). Collaborative leadership and school improvement: Understanding the impact on school capacity and student learning. School leadership and management, 30(2), 95-110.
Hopkins, D. (2012). What we have learned from school improvement about taking educational reform to scale. School Effectiveness and Improvement Research, Policy and Practice, 163-176.
Jeppesen, L. B., & Lakhani, K. R. (2010). Marginality and problem-solving effectiveness in broadcast search. Organization science, 21(5), 1016-1033.
Keupp, M. M., & Gassmann, O. (2009). Determinants and archetype users of open innovation. R&d Management, 39(4), 331-341.
Lazwardi, D. (2018). Implementation of school-based management. Al-Idarah: Jurnal Kependidikan Islam, 8(1), 32-49.
Lee, S. M., Hwang, T., & Choi, D. (2012). Open innovation in the public sector of leading countries. Management decision.
Leithwood, K., Harris, A., & Hopkins, D. (2008). Seven strong claims about successful school leadership. School leadership and management, 28(1), 27-42.
Li, L., Hallinger, P., & Walker, A. (2016). Exploring the mediating effects of trust on principal leadership and teacher professional learning in Hong Kong primary schools. Educational Management Administration & Leadership, 44(1), 20-42.
Mailool, J., Kartowagiran, B., Retnowati, T. H., Wening, S., & Putranta, H. (2020). The Effects of Principal's Decision-Making, Organizational Commitment and School Climate on Teacher Performance in Vocational High School Based on Teacher Perceptions. European Journal of Educational Research, 9(4), 1675-1687.
Marks, H. M., & Printy, S. M. (2003). Principal leadership and school performance: An integration of transformational and instructional leadership. Educational administration quarterly, 39(3), 370-397.
Mitchell, R. (2013). What is professional development, how does it occur in individuals, and how may it be used by educational leaders and managers for the purpose of school improvement?. Professional development in education, 39(3), 387-400.
Muijs, D., & Reynolds, D. (2017). Effective teaching: Evidence and practice. Sage.
Olcum, D., & Titrek, O. (2015). The effect of school administrators' decision-making styles on teacher job satisfaction. Procedia-Social and Behavioral Sciences, 197, 1936-1946.
Özgenel, M., & Mert, P. (2019). The role of teacher performance in school effectiveness. International journal of education technology and scientific researches, 4(10), 417-434.
Pedder, D., & Opfer, V. D. (2010). Planning and organisation of teachers' Continuous Professional Development in schools in England. The curriculum journal, 21(4), 433-452.
Reed, R., Storrud‐Barnes, S., & Jessup, L. (2012). How open innovation affects the drivers of competitive advantage: Trading the benefits of IP creation and ownership for free invention. Management Decision, 50(1), 58-73.
Salter, A., Ter Wal, A. L., Criscuolo, P., & Alexy, O. (2015). Open for ideation: Individual‐level openness and idea generation in R&D. Journal of Product Innovation Management, 32(4), 488-504.
Serdyukov, P. (2017). Innovation in education: what works, what doesn't, and what to do about it?. Journal of research in innovative teaching & learning, 10(1), 4-33.
Spithoven, A., Vanhaverbeke, W., & Roijakkers, N. (2013). Open innovation practices in SMEs and large enterprises. Small business economics, 41, 537-562.
Swart, F., Knezic, D., Onstenk, J., & De Graaff, R. (2019). Evaluating and improving teacher educators' language-oriented performance in content-based teaching. International Journal of Educational Methodology, 5(1), 71-86.
Tellis, G. J., Prabhu, J. C., & Chandy, R. K. (2009). Radical innovation across nations: The preeminence of corporate culture. Journal of marketing, 73(1), 3-23.
UNICEF (2012). Trainee's manual for training of school-based management committees on whole school development project. Federal Ministry of Education Publication, 10-11.
West, J., Salter, A., Vanhaverbeke, W., & Chesbrough, H. (2014). Open innovation: The next decade. Research policy, 43(5), 805-811.
Zheng, W., Yang, B., & McLean, G. N. (2010). Linking organizational culture, structure, strategy, and organizational effectiveness: Mediating role of knowledge management. Journal of Business research, 63(7), 763-771.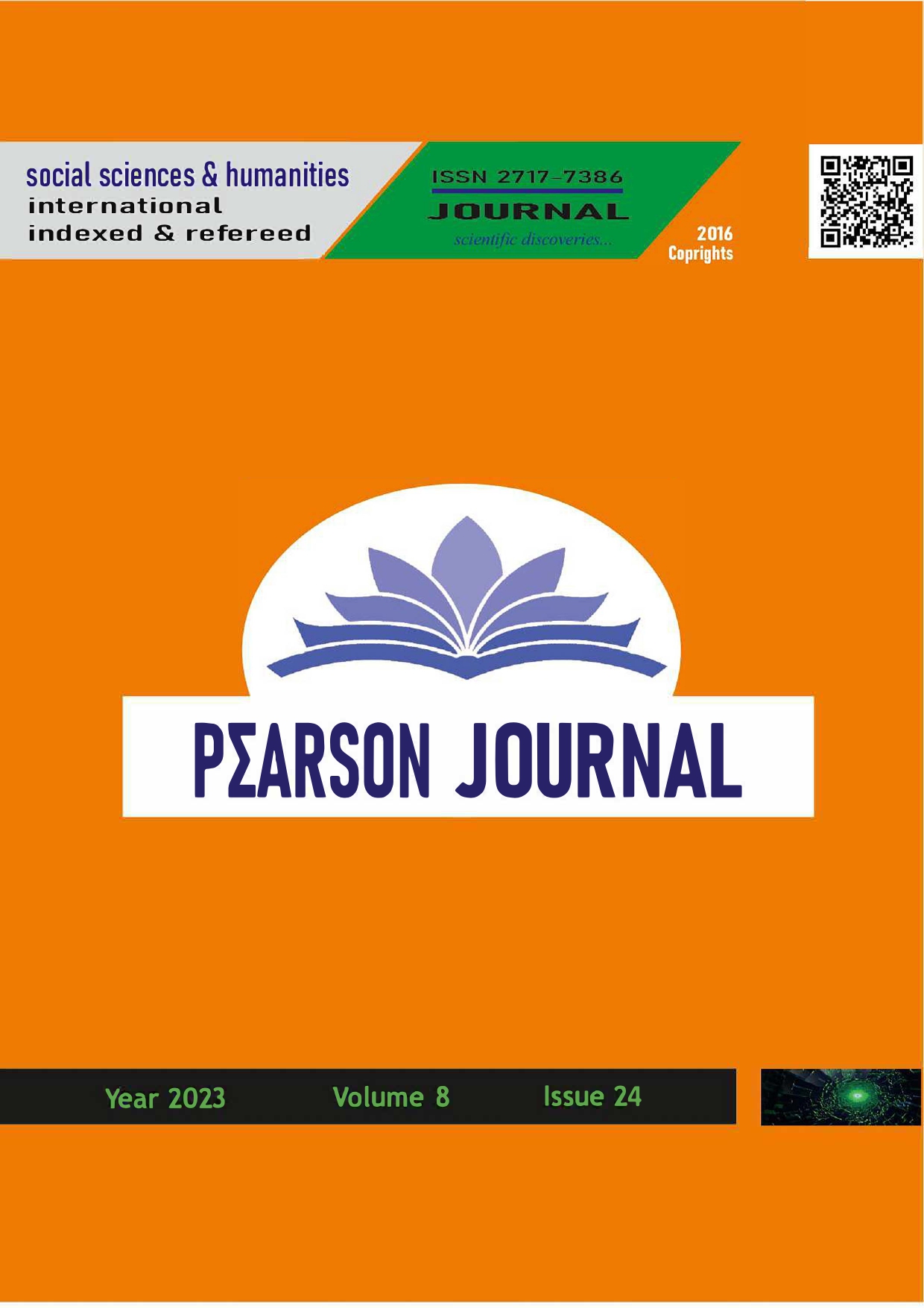 İndir
Nasıl Atıf Yapılır
KAYA, H. (2023). Okul Bütününde Yenilikçiliği Önceleyen ve Kendini Yenileyebilen Okul Yönetimleri. PEARSON JOURNAL, 8(24), 318–334. https://doi.org/10.5281/zenodo.8078005
Lisans
Telif Hakkı (c) 2023 PEARSON JOURNAL
Bu çalışma Creative Commons Attribution 4.0 International License ile lisanslanmıştır.